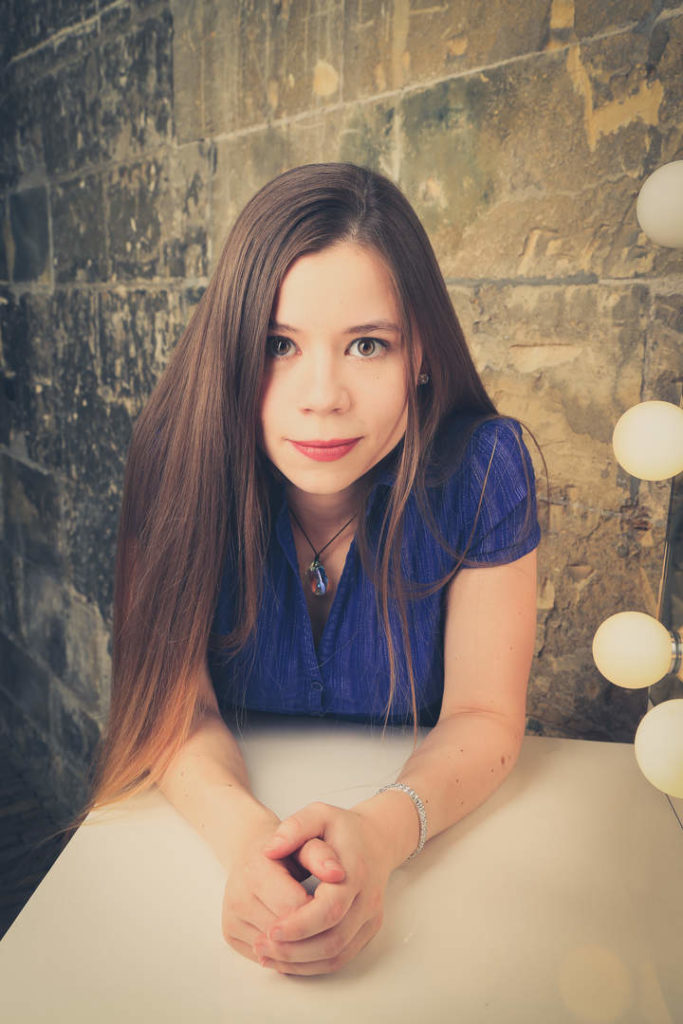 Sandrine discovered classical singing at the age of 9, by entering the children's choir of La Monnaie, the Royal Opera House of Brussels. There, she learned to work under the direction of internationally renowned conductors (Antonio Pappano, Hartmut Haenchen…) and stage directors (Christof Loy, David McVicar, Guy Joosten…) and took part in several international tours with the choir.
She studied singing technique with Eunice Arias and obtained her Qualification diploma in piano with Monique Dekeyser. She later went to study solo singing at the Conservatorium Maastricht, in the class of Frans Kokkelmans, from where she graduated with a Master degree in Voice and Opera in 2016. During her studies, she took part in different opera productions, as L'Enfant in "L'Enfant et les Sortilèges", Susanna in "Le Nozze di Figaro", Mistery in "The Fairy Queen", and Arminda in "La Finta Giardiniera". She later studied at the Faculty of Music in Belgrade, Serbia, to continue her training in the operatic repertoire, under the tuition of Katarina Jovanović. She has, since then, had the opportunity to take part in the masterclasses of i.a. Nelly Miricioiu, Claron McFadden, Peter Sellars, Marie-Paule Hallard, Janice Dixon and Vladimir Redkin.
Sandrine made her professional début in 2018 as Amahl, in Menotti's "Amahl and the night Visitors" in Valkenburg. The same year, she also sung the roles of Poppea from Monteverdi's "L'Incoronazione di Poppea" in Thessaloniki and Papagena in "Die Zauberflöte", a production by the opera group The Fat Lady. Next to her operatic career, she has regularly been giving concerts with the foundation Muziek Jong voor Oud, both as a singer and a pianist and has participated in the creation of two world premières during the festival Stemmig Maastricht.
She recently distinguished herself by winning the First Prize at the "Nouveaux Talents de l'Art Lyrique" competition (Ans – 2018), and the Second Prize at the National Operette Competition (Brussels – 2019). She regularly appears as soloist in the sacred repertoire too: Haydn – Die Schöpfung, Orff – Carmina Burana, Brahms – Ein Deutsches Requiem, Vivaldi – Magnificat, Pergolesi – Stabat Mater…